March 02, 2016
Discover our Sweet Win!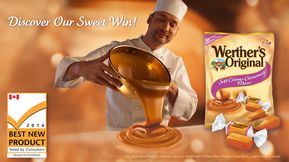 Werther's Original Soft Crème Caramels winner of the 2016 Best New Product Award
BrandSpark Canadian Shopper Study provides a comprehensive source of insights about Canadian shopping habits for everyday consumer packaged goods. More than 39,000 Canadians participated in this 13th annual study and the results are used to determine the winners of the 100% consumer-voted Best New products award. The 2016 survey had more than 217 entries and 71 winning products across multiple categories. Winners are determined by consumer appeal and repurchase intent. Werther's Original Soft Crème Caramels received top spot in the candy category outperforming Lancaster Caramels and Dare real fruit chews. Soft Crème Caramels receives sweet reviews from consumers; "As a child I loved caramel candies. As I grew older they were less likely to be found. Having the Werther's Original Soft Crème Caramels available in more and more stores is like a big hug from my mom. They are chewy, flavourful, and so addictive." "Werther's Original Soft Crème Caramels are simply irresistible. I find it hard to eat just one. I often hide them away as an adult treat when I need a break, they are smooth and creamy." Discover our sweet win, Soft Crème Caramels our softest caramel yet!
About Werther's Original
Candy-maker Gustav Nebel first introduced his delicious, iconic caramel recipe in 1909 in the small European village of Werther, Germany. Using only the best ingredients - real butter, fresh cream, white and brown sugars, a pinch of salt and a lot of time – he created a treasure worthy of being wrapped in gold and named the candy Werther's Original in honour of his village. Crafting this smooth creamy caramel became a family tradition handed down through generations.
Today, Werther's Original comes in several varieties, from hard, chewy, soft and filled caramels and even in no sugar added. People all over the world enjoy the unique taste of Werther's Original.